Become an insight-driven modern enterprise
Effectively utilize data and analytics to build smart decisioning platforms that enable high-octane performance
Become an insight-driven modern enterprise
Effectively utilize data and analytics to build smart decisioning platforms that enable high-octane performance
Differentiate with data and analytics
Modern organizations need modern decisions
Reimagine business decisions by leveraging the power of data, real-time insights, cognitive intelligence, and human science
Extract the real value from your data with our offerings
Bring all your data in harmony to glean decision-grade insights and learn from them progressively
Get trusted data on demand while reducing cost and effort
Modernize your data platform to improve scalability, availability, and performance
Moved big data to cloud in record time
Leveraged snowflake on AWS and metadata-driven spark-based frameworks for data migration
24 days to complete migration
Drive business outcomes through
visualization and narratives
Empower business users and increase trust to enable rapid decision-making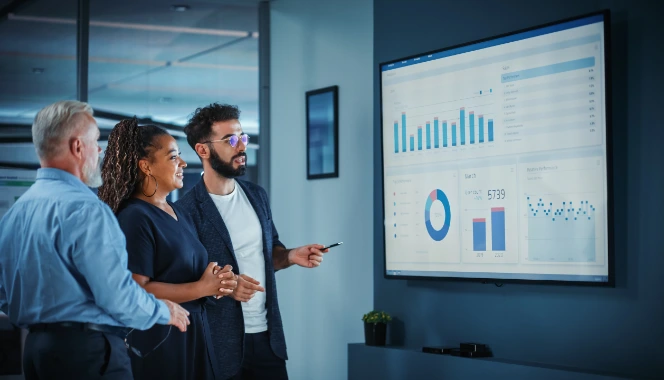 Leveraging automation and analytics to optimize data for India's leading general insurance provider
A modular, scalable, and comprehensive data processing platform to create a holistic, centralized repository of critical financial information
100+ KPIs reported monthly
2+ TB computations within 20 hours
10+ years worth of data migrated in a single move
100+ Million customers covered
Automate operational decision-making, strengthen tactical decisions, and arrive at strategic conclusions
Turning decision complexity into a competitive advantage by maturing the journey from what happened to how to make it happen
Faster anomaly detection for India's leading exchange
AI/ML-powered self-learning system improves surveillance
7+ Billion messages processed daily
Turn your data into
a true differentiator
Scale up your business outcomes with future-forward business intelligence, decision intelligence, and data modernization solutions.
Simplifying unified collaboration and channel management with a composable low-code platform
Deliver unparalleled digital experiences at speed with our domain-agnostic low code platform, Yugma
Boosted profitability with a unified customer view
Customer behaviour mapping increases profitability by 23% and engagement by 37%
Built an analytics solution with a centralized data lake for customer and account profiling. Unified visualization dashboards unlocked cross-sell and up-sell opportunities leading to a 23% improvement in product profitability.
A unified ecosystem
with end-to-end solutions 
Next-gen data harnessing capability that
accelerates
time-
to-insight
Expertise in over 30 cutting-edge data analytics tools and
technologies
Ready-to-use platforms and
accelerators