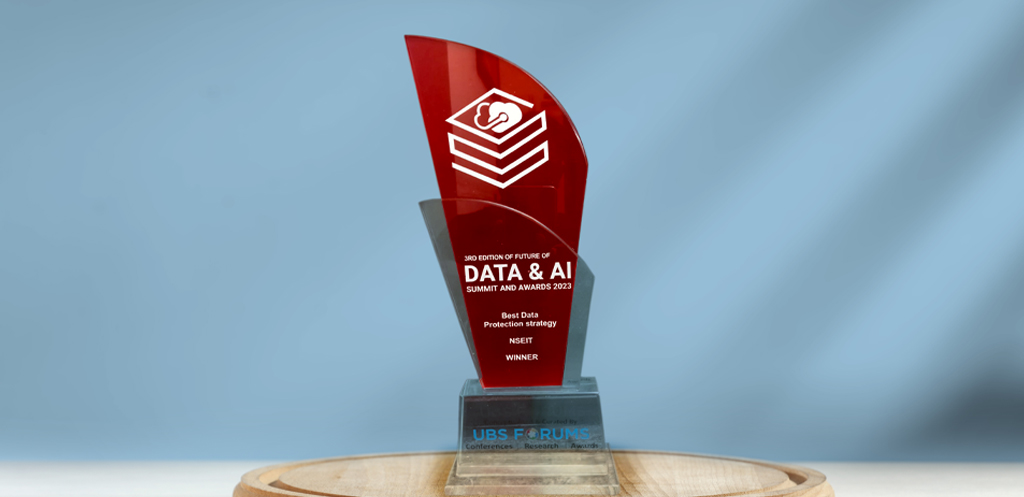 October 9, 2023 | Mumbai, India: NSEIT announces that it has won the Best Data Protection Strategy award at the third edition of the Future of Data & AI Summit and Awards, held on October 5, 2023. UBS Forums Private Limited organized this event in Mumbai, India.    
The event was attended by close to 200 companies within the data analytics, automation, and data management space, which also featured multiple panel discussions. From eight organizational award categories, NSEIT was conferred with an award in the data protection strategy category considering the organization's relentless focus on: 
Digital delivery of services for customers through frameworks and procedures that has led to a substantial decrease in online attacks
Robust system integration and associated practices to ensure speedy resolution and improved adoption of AI-based technologies for data management
Better encryption techniques for ITOps management
Faster and secure mitigation of threats through one-click and real-time dashboards and preemptive measures
About Future of Data & AI Summit and Awards 2023:
Now in its third edition, this year – the Future of Data & AI Summit and Awards was themed on: "Unleash the Beast of Big Data Analytics: Empowering Intelligence."
CXOs, technology leaders, and other senior leaders from premier organizations were part of the 250+ luminaries present, who discussed and deliberated on effective strategies for managing embedded data into data management tools. Across multiple sessions throughout the day, the audience was exposed to various methods of cultivating innovative data culture, harnessing data governance strategies, business insights, and data monetization techniques to improve RoI.
For more information, please contact:
Corporate Marketing: teammktg@nseit.com